Values and commitments
Built on firm foundations, GROSSET-FOURNIER & DEMACHY has created a successful formula, CS3, which combines complexity, science, synergy and skill with language.
Any industrial property project is an exercise in mutual trust. The challenges are legal, economic and financial, as well as scientific and human. Success is essential for the longevity and development of an enterprise.
The formula CS3 brings together the four core strands of our methodology:
an intelligent approach which distils value from the creativity of Complexity;
the in-depth knowledge of Science necessary to understand inventions;
establishing a genuine Synergy with inventors;
the specialized Skill with language required to express your invention in the correct legal terms.
We are committed to:
offering personalized support, with availability, flexibility and reactivity;
ensuring confidentiality, professional privilege and the absence of conflicts of interest;
building enduring relationships, contributing to making our clients' research and development more dynamic and participating in increasing the value of their enterprise.
For further information on patents and for inventors
« Le brevet d'invention, guide pratique en 101 questions »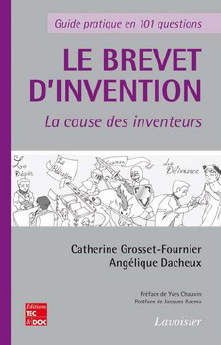 by Catherine Grosset-Fournier, co-author (Lavoisier, éditions Tec&DOC)